Reward yourself with a P1FCU Premier Rewards Mastercard.
How much would you earn with 1.5% cash back on every purchase?
Are you looking for a credit card with rewards? Well, we've made it simple. Get 1.5% unlimited cash back on purchases, plus take advantage of 0% APR1 on new purchases for 6 months. Reward yourself with a Premier Rewards Mastercard.2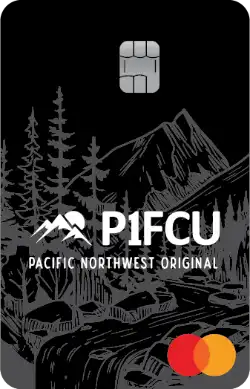 Premier Benefits
1.5% Unlimited Cash Back3 
0% APR for 6 months on New Purchases4 

$0 Balance Transfer Fee5
$0 Annual Fee6
$0 Cash Advance Fee7
More Premier Rewards Benefits
Acceptance: 36 million merchants worldwide accept Mastercard.
EMV Chip Technology: Improves the global usability and security of your card as more merchants at home and abroad switch to advanced chip card terminals.

Contactless:

 

Just tap and pay without having to swipe.
Zero Liability: In the event that your card is used to make unauthorized purchases - whether made in a store, by phone or online - you won't be held liable.8

Mastercard ID Theft Protection™

: Provides you with access to a number of identity theft resolution services. This product offering will alert cardholders about possible identity theft by monitoring the web and searching for compromised credentials and potentially damaging use of registered personal information in order to detect fraud at its inception. It also provides a monthly risk alert/newsletter, resolution services that are available 24/7, lost wallet assistance, single bureau credit monitoring, financial account take over monitoring, and URL and domain monitoring. To use this service, simply enroll using Mastercard's Identity Theft Portal.9
Mastercard Global Service™: Provides worldwide, 24-hour assistance with Lost and Stolen Card Reporting, Emergency Card Replacement,and Emergency Cash Advance. Call Mastercard Global Service immediately to report your card lost or stolen and to cancel the account. If you need to make purchases or arrange for a cash advance, with your issuer's approval, you can receive a temporary card the next day in the United States, and within  two business days almost everywhere else.10

Mastercard Airport Concierge™:  Arrange for a personal, dedicated Meet and Greet agent to escort you through the airport on departure, arrival or any connecting flights at over 700 destinations worldwide 24 hours a day, 7 days a week, 365 days a year. There are also certain airports where you can be expedited through the security and/or the immigration process. To reserve Mastercard Airport Concierge services visit www.mastercard.com/airportconcierge or consult your Travel Advisor. This benefit may be subject to change without prior notice. Please visit www.mastercard.us/worldor call 1-800-Mastercard for the latest benefit information.
See guide to benefits for the P1FCU Premier Rewards World Mastercard.
Important phone numbers: To activate your card, call 833-541-0770. If your card has been lost or stolen, call

833-541-0777. Call 866-297-3413 if you want to change your PIN. To dispute a charge, call 

888-829-6434.

1 
APR- Annual Percentage Rate.
2 P1FCU Membership required in order to obtain a Premier Rewards Mastercard. Subject to credit approval. Not all applicants will qualify.
3  1.5% Cash Back Rewards: Valid on net purchases (less credits, returns and adjustments) of goods and services made with a P1FCU Premier Rewards Mastercard. Cash back earned will be applied as a statement credit after an eligible purchase is made. Cash advances, fees and interest charges do not qualify to earn cash back. Account must be open and in good standing at the time the purchase is made and the statement credit is applied. 
4 Introductory rate of 0% Annual Percentage Rate (APR) for 6 months on purchases after your Premier Rewards Mastercard account opens. After the introductory period ends, the APR for unpaid purchase balance and any new purchases will be  16.25%-18.00% based on creditworthiness. APR is effective 07/01/2023 and will vary with the market based on the Prime Rate.
5 Balance Transfer Fee: None.
6 Annual Fee: None.
7 Cash Advance Fee: None.
10 For additional information, or for country-specific, toll-free telephone numbers, visit our website at www.mastercard.com or call the United States collect at 1-636-722-7111.
™Mastercard is a registered trademark, and the circles design is a trademark of Mastercard International Inc.